Five Tips for Increased Semi-Truck Sales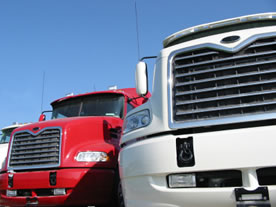 One of the best ways to increase your semi-truck sales in general is by going online. You need to do a lot more than just post a basic ad on the Internet though. To appeal to prospective buyers, you should put in a little extra effort. If you'd like to sell trucks online quickly and easily, the following five tips are sure to help.
Use High-Quality Photos – Studies have shown that people are more likely to seriously consider an ad when it includes clear, high-quality photos. One of the worst mistakes that you can make is to use blurry, low-resolution images. Furthermore, make sure that your images are large enough. If people need magnifying glasses to tell what's going on, your photos are definitely not working in your favor.
Include Well-Written, Highly Detailed Descriptions – If the descriptions that you use for your bucket trucks and semis are riddled with spelling mistakes and grammatical errors, you're not going to be taken very seriously. It also helps if the description is interesting to read. It should be written in a way that actually compels people to take action too. While you're at it, make sure to include plenty of keywords. Think of the kinds of terms that people would use when searching for semi-trucks and bucket trucks online. Sprinkle them liberally throughout your descriptions. Doing that will make it easier for people to find your ads.
Use Video Too – It's quick and easy to create and upload a video for your semi-truck advertisement. Take prospective buyers on a tour of the truck. Many people respond more favorably to videos than they do to photos alone. Another reason it's smart to use videos is because they give you more places to appear in the search engine results. YouTube is the most popular video site, so make sure to post your video there as well.
Include Pricing – Nothing scares away prospective semi-truck buyers more than listings that don't include pricing. People just don't like to have to call to find out how much a semi-truck costs. It's one more step, and most people don't want to do it. Figure out a price right from the start. Post it prominently on your listing. If you're open to negotiation, make sure to mention that as well.
Reply Quickly – When you get a nibble, react swiftly. Don't leave people hanging. If someone calls or sends an email, pick up the phone or send a response right away. When someone is in the market for a bucket truck or semi, you can be certain that he's looking at several options. Shoot to the top of the list by being responsive.
That's all there is to it. These simple steps will make your semi-truck ad stand out online in a really big way. Many people fail to do a single one of these things. By doing all of them, you're sure to increase your sales in no time.
Trucker To Trucker is an online marketplace for trucks, trailers, parts, and equipment.